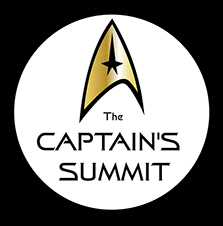 THE CAPTAIN'S SUMMIT


GENERAL INFO

GENERAL INFO SITE MAPS DIRECTIONS CONTACTS




GENERAL INFORMATION:

Qapla' and Welcome...It is another Glorious Day for the Empire!
Starfleet Command - Mojave Presents "The Captain's Summit " Memorial Day Weekend Event, to be held at the Mojave Desert Outpost, Sept 2, 3, 4, 5, and 6 2021.
The Inaugural "The Captain's Summit " 5-Day Memorial Day Weekend Event, will be held on our Panoramic 20+ acre, Mojave Desert Site, in beautiful Cantil, California. It will be like visiting another Planet, and only less than 2 hours outside of LA. Hosted by Starfleet Command - Mojave, a NASA Oriented, Cultural and Educational Organization, and the Red Rock Resort Ranch (RRR Ranch), a Private Desert Event Space and Film Ranch.
The SFC-M Presents "The Captain's Summit " combines a weekend of Camping, Amusement Rides, great Tribute Bands, outrageous Sci Fi Cos-Play Costumes, a Captain's Lazertag Challenge, the "HIVE" Game VR Arcade, a Space and Technology Job Fair, High Tech Installations, and Displays, and lots, and lots of really cool stuff to do. There will be Demonstrations, a Federation Challenge Competition, a Captain's Charity Ball and Auction, "Section 31" STEAM-based Play Area, Special Guest Stars and Star-studded Daily Panels, the Daily Autograph Salon, Klingon Rituals and Ceremonies, and so much more, all with a wild Night Life, combined with the serene, outdoor Desert Camping, in the balmy Mojave Desert of Southern California. There will be a recreation of Risa Beach, complete with several other Beaches to run around and play on. The site will be dotted with open Host-Bars, such as Quark's Tavern, the Ten Forward Bar and Lounge, the Risa Beach Club Bar and the 602 Lounge.
We have a serious Food Offering with Delicacies from some of the best known Species, across the Alpha Quadrant, and beyond, Vendors including the Atomic Cafe, Mon Frere's Cajun Soul Food, and of course the old stand by, the Commissary. We will also be Hosting our first ever, "Gene Roddenberry Award" Ceremony.
The Weekend long Event, has plenty of Parking, and lots of Space for Drive/Walk-in Camping. Everything is with-in Walking Distance, and all Competition Activities will take place nearby. Come, Enjoy the wonderful Universe of Star Trek Cos-Play.
Hope to see you there. The first round of War Nog is on Me.
in service,
Rick Smith - Event Chair
The Captain's Summit Expo

Release Date 1 Jan 2020
General Information:

Title of Exhibition:
2021 Starfleet Command - Mojave Presents "The Captain's Summit " Labor Day Weekend Event
Theme:
Sci Fi Cos Play
Organizers:
Starfleet Command - Mojave:

www.StarfleetCommand-Mojave.Org
https://www.facebook.com/events/1940495256189601
RRR Ranch:

Website: http://www.CaptainsSummit.com
Facebook Event Page:
https://www.facebook.com/events/1940495256189601
Supporting Organizations:

Date(s):
Sept 2nd, 3rd, 4th, 5th, 6th 2021
Venue:
RRR Ranch (Cantil, California)
Location:
13144 Munsey Road, Cantil, Calif. 93519
Speaker Auditorium:
60' Exhibit Dome, 350 Person Limit,
Exhibition Area:
60' Exhibit Dome, with (3) 30' x 40' Wings
Event Capacity Attendance:
1,500 - 2,500
Ticket Page:
https://www.brownpapertickets.com/event/3099394

General Admission:
$175/One Day Pass $45 (Day of the Event)
Ticket Sales starting April 5th $100/$30
after May 28th $125/$35
after Aug 19th, $150/$40
See Official Ticket Page for information on Package Options and Ala Cart Items...
(Because of the Attendance Limits, "Gate Sales" - are discouraged)
---


Objectives: This Event will be a coherent, and well-structured Environment, that will promote Safe, Fun and Competitive Live Action Role Playing, which we hope helps to Foster Excitement in Space related Activities. The Event will also be a Medium to promote New and Existing Products, and to Develop New Business and Social Contacts by contributing to the promotion of Friendly Competition, and shared Comradery.

This Event is offered by Starfleet Command - Mojave, an American-based, International, NASA-Inspired, Cultural and Educational Organization. The Event is aimed solely to Educate the Public, and providing friendly Competition, and promote General Interest concerning Space Travel and the Space Culture, Society and it's History. No copyright infringement is intended on our part for the Star Trek Terminology and Expressions, that are held by CBS, Paramount, the Estate of Gene Roddenberry, or of any others.

"Starfleet Command - Mojave", and "Starfleet Command - Mojave Presents "The Captain's Summit " Weekend", are registered Service Marks for a NASA-Orientated, Unincorporated, Scientific Research and Development Group and Science Fiction Based Event.