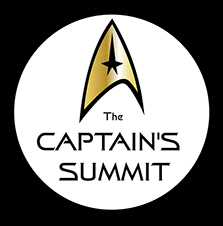 THE CAPTAIN'S SUMMIT


ABOUT

GENERAL INFO SITE MAPS DIRECTIONS RULES CONTACTS





Starfleet Command - Mojave Presents, "The Captain's Summit ". A Memorial Day Weekend Expo, that promises to be one of the most unique Experiences you'll ever have. It combines a weekend of Fun, Sci-Fi, Camping, Amusement Rides, Music by great Bands and DJs, outrageous Cos-Play Costumes, a Captain's Lazartag Challenge, the HIVE" Game" VR Arcade, a Space and Technology Job Fair, High Tech Installations and Displays, lots of cool stuff to do. There will be a Recreation of Risa Beach, complete with several other Beaches to run around and play on, with open several Host-Bars, such as Quark's Tavern, the Ten Forward Lounge and Bar, the Kona Beach Club Bar, and the 602 Lounge. There will be Demonstrations, a Federation Challenge Competition, a Captain's Charity Ball and Auction, Special Guest Stars with Star-studded Daily Panels, the Daily Autograph Social, a Section 31, STEAM-based Play area, with Robotic, Programing , and various VR/AR Entertainment Exhibits, and so much more, all with a wild Night Life, combined with the serene, outdoor Desert Camping, in the balmy Mojave Desert of Southern California.
---


Objectives: This Event will be a coherent, and well-structured Environment, that will promote Safe, Fun and Competitive Live Action Role Playing, which we hope helps to Foster Excitement in Space related Activities. The Event will also be a Medium to promote New and Existing Products, and to Develop New Business and Social Contacts by contributing to the promotion of Friendly Competition, and shared Comradery.

This Event is offered by Starfleet Command - Mojave, an American-based, International, NASA-Inspired, Cultural and Educational Organization. The Event is aimed solely to Educate the Public, and providing friendly Competition, and promote General Interest concerning Space Travel and the Space Culture, Society and it's History. No copyright infringement is intended on our part for the Star Trek Terminology and Expressions, that are held by Paramount, the Estate of Gene Roddenberry, or of any others.

"Starfleet Command - Mojave", "Red Rock Resort", and "Starfleet Command - Mojave Presents "The Captain's Summit " Weekend , are registered Service Marks for a NASA-Orientated, Unincorporated, Scientific Research and Development Group.