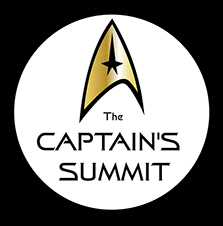 THE CAPTAIN'S SUMMIT
EXPO

Sept 2, 3, 4, 5, 6 2021

STARFLEET COMMAND - MOJAVE PRESENTS THE "CAPTAIN'S SUMMIT" LABOR DAY WEEKEND.
IT WILL BE ONE OF THE MOST UNIQUE EXPERIENCES YOU'LL EVER HAVE.

Come... Enjoy the wonderful Universe of Sci-Fi Cos-Play.





Starfleet Command - Mojave, is an International, American-based, NASA-Inspired, For-profit Cultural and Educational Organization.
No copyright infringement is intended on our part for the Star Trek Terminology and Expressions,
that are held by CBS, Paramount, the Estate of Gene Roddenberry, or of any others.
---